System requirements
Minimal:
OS: Windows XP SP3/Vista/7/8
Processor: 2.0 GHz CPU
Memory: 2 GB RAM
Graphics: DirectX 9c compatible graphic card with 512 MB RAM and PixelShader 3.0
DirectX: Version 9.0c
Storage: 13 GB available space
Sound Card: DirectX 9.0c compatible
The Book of Unwritten Tales 2
Legend foretold it. Prophecies predicted it. Chosen ones chose to believe in it. Now the adventure saga continues. A sequel is coming. A sequel to one of the most acclaimed fantasy spoof adventure games in the history of fantasy spoof adventure games. Help Wilbur, Ivo, Nate and Critter fulfill their yet unwritten destiny.
Features
A new adventure from KING Art, the creators of The Book of Unwritten Tales, The Critter Chronicles and The Raven – Legacy of a Master Thief
A fantasy story with over 20 hours of pointing and clicking
The trademark BoUT-humor, lovingly spoofing WoW, LotR, Game of Thrones, Harry Potter, Discworld, The Hobbit and more
Hundreds of weird, yet oddly logical puzzles
The well-proven "Multi-Character-Gameplay"
An ensemble of quirky characters, both well-established and brand-new
Projection Mapping technology unites the merits of 2D and 3D styles and technique
The established four playable characters Wilbur, Nate, Ivo and Critter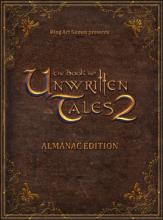 Content
104-page Artbook (as pdf): Over 100 pages of concept art and comics by the game's concept artist Marvin Clifford, along with Making Of renderings and background info.
Making-Of Video: Peek behind the curtain of how The Book Of Unwritten Tales 2 takes form and watch all the videos of our Video-Blogger Danica, who will follow and document the development of the game.
The Orchestral Soundtrack (as mp3 files): Benny Oschmann who wrote the acclaimed soundtrack of the original game is back on board for the sequel. The Soundtrack will feature all tracks from the game, both reworked classics from the first game and new compositions.
2 posters (printable): Two beautiful pictures. Two posters to rule them all.
Exclusive in-game content "Color Your Critter": Only those who call the Almanac Edition Extras their own will have access to this exclusive feature. It lets you change the color of Critter, Nate's much-loved furry companion. Give Critter your favorite color or change it as often as you want – the colors of the rainbow are at your command!
Page last edited: 12.11.2018