MX vs ATV All Out
All Terrain, All Vehicles, All You! MX vs ATV All Out is the complete off-road racing and lifestyle experience!
Choose between bikes, ATVs, UTVs, refine your rider style at your private compound and blast across massive open worlds to compete head to head in various game modes! The all new Freestyle mode allows you to win with style and crazy stunts! Or go All Out and show your riding skills in Multiplayer!
Features
2 player split-screen and 16 player online mode
Compete in various modes like Supercross, Nationals, Opencross, Waypoint, Tag and more
Master insane stunts and test your limits in freestyle mode
Turn your private compound into a show room for the all of your customized vehicles
Upgrade and tune your vehicles with original performance parts
Select your own style from numerous gear companies or choose to compete with one of the many top professional riders from around the world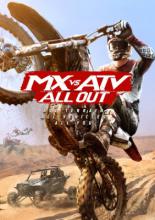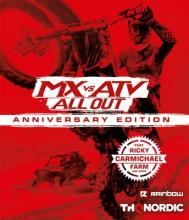 Content
Includes 3 massive DLCs: Ricky Carmichael Farm, Slash's Snake Pit and Hometown MX Nationals, for a staggering total of 14 additional tracks!
Ricky Carmichael Farm features 2 Supercross, one Nationals, one Waypoint, and 2 Opencross tracks PLUS multiple trails in Freeride!
Slash's Snake Pit features 3 of the largest Supercross tracks in MX vs ATV history PLUS and FMX area!
Hometown MX Nationals includes the most authentic outdoors tracks! Four, huge Nationals tracks and 2 Freeride environments to explore with different time of day variations.
Page last edited: 24.04.2020