RUSH: A Disney • PIXAR Adventure
A Disney•Pixar Adventure invites families and fans of all ages to experience the worlds of six beloved Disney•Pixar films like never before. Team up with characters from The Incredibles, Ratatouille, Up, Cars, Toy Story, and Finding Dory to solve puzzles and uncover hidden secrets.
You and your favorite Pixar character can interact on screen and play cooperatively to solve challenges. Move from fast-paced puzzle-solving to moments of pulse-pounding agility and speed.
Features
Save the day in your own fast-paced adventure. Invite your whole family to join Woody, Lightning McQueen and others in this one-of-a-kind Pixar experience
Join forces with Pixar characters to help you through each challenge or play on the same screen through split-screen couch co-op at home with a friend.
Explore and discover the sights and sounds of each Pixar world as you solve puzzles and search hidden secrets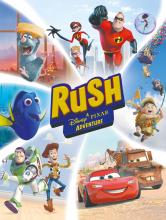 Content
Page last edited: 30.11.2018