Enhance your adventure – Gothic Remake to feature in-game store
April 1, 2021
Barcelona, Spain / Vienna, Austria, April 1st 2021: Gothic has just turned 20 years old, and players around the world can't wait to put their feet back into the Colony. As THQ Nordic and Developer Alkimia Interactive promised, the development process for the upcoming Gothic Remake will be as transparent as possible. And therefore, the two companies are proud to present one of the exciting new features of the Gothic Remake: The G-Store. 
After analyzing all the great RPGs out there, it became quite clear that players want to have a chance to enhance and customize their adventures. With the G-Store, Alkimia Interactive and THQ Nordic will offer vast options to do so. The store will feature new equipment for the hero – you can get the legendary weapons of Diego or all-new clothes to really stand out between all the other colonists. Also, the shop will offer a large amount of quality of live items, such as healing potions, XP-booster or creature-type focused damage-enhancer, if you are struggling to slay a Troll for example. Also, ff the player has spent all his learning points or attribute points in a way that doesn't please him anymore, a full respec is also available for a small fee. 

And – for the very first time in the Gothic-Franchise – the G-Store will exclusively feature the most requested item-types ever: pets! If you ever felt a bit lonely while running through the wilderness, we have a solution: Get a pet! Be it a baby scavenger or a young troll, everyone will find a beloved companion.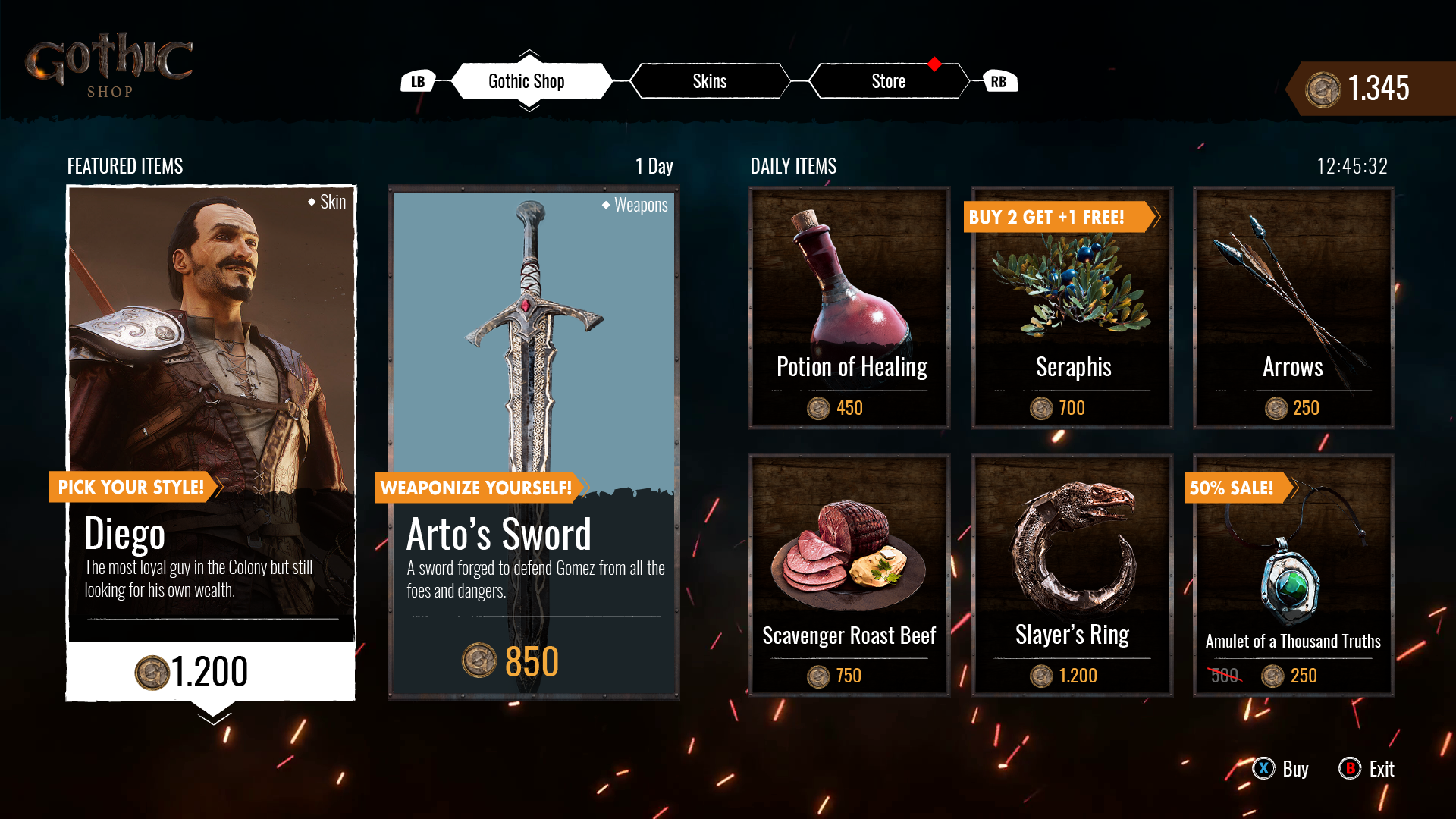 Each transaction in the G-Store is done with G-Coins. These can either be purchased at a fixed rate as seen in the price list below, or via viewing livestreams of the game – for each hour watching the Gothic Remake in a stream, registered users will be rewarded with G-Coins. The exact offering of the in-game store depends on the community feedback and will be made revealed closer to the game's release.
G-Coins pricing overview: 
2.500 G-Coins for EUR/USD 12.99
5.000 G-Coins for EUR/USD 24.99 (+500 Bonus G-Coins)
10.000 G-Coins for EUR/USD 59.99 (+1000 Bonus G-Coins)
20.000 G-Coins for EUR/USD 99.99 (best value and +2000 Bonus G-Coins)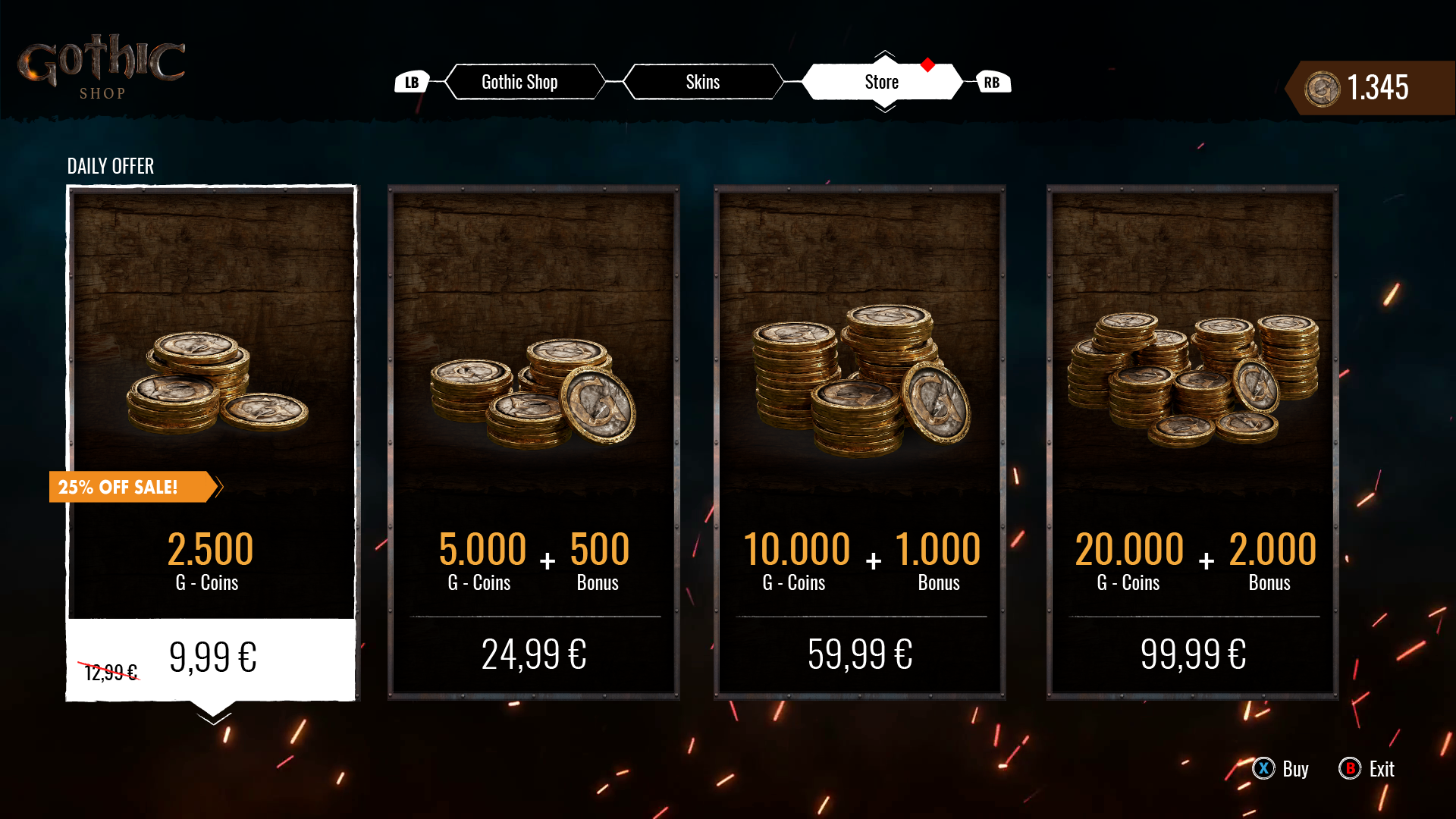 "With the Gothic Remake, we do not simply want to make the old Gothic look shiny, we want to fully adopt the game and bring it up to 2021 standards (and probably beyond). We are all big fans of Open-World-RPGs in general and in almost all of them is a shop for the modern player: Hard working in Real Life, earning a lot of money but no time to spend it. For these kind of people, we offer THE perfect solution!" says Reinhard Pollice, Studio Head Alkimia Interactive & Business and Development Director at THQ Nordic, "we did a representative survey in our financial department and 100% of the participants agreed, that this is a fantastic idea!" 
The Gothic Remake is currently in development for PC, PlayStation®5 and Xbox Series X|S. There is no official estimated release window yet.